As an ISO-certified fastener supplier, Hercules distributes stainless fasteners, metric fasteners, lock nuts, machine screws and much more!
Bolts, lock nuts, machine screws and stainless fasteners are just a few examples of the many products that Hercules Fasteners offers. As an experienced ISO-certified distributor, Hercules has been supplying all manner of standard and metric fasteners as well as many other products since 1985. In addition to our fine line of stainless fasteners, metric fasteners and hex nuts, we stock many other products, including star washers and flat washers, rivets, pins, tap drills and drill bits. We are also an authorized distributor of 3M adhesives.
We offer many of our products in metric and US customary sizes in plain finishes, RoHS compliant plating and a wide variety of other finishes. Here are just a few examples:
Zinc Clear, Yellow, Black or Blue
Cad Yellow Dichromate
Teflon
Nickel
Chrome
Copper

Whatever the nature of your order, Hercules takes pride in providing a quality product, competitive pricing, exceptional customer service and prompt, hassle-free delivery. While we are based in Ohio and have done extensive business here, we have also served clients across the US and even internationally.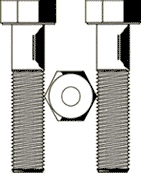 Each member of our dedicated and knowledgeable sales team has over twenty five years of fastener industry experience; we are ready to take care of your RFQ today. Whether your order is standard or custom and made to print - Hercules can help hold it together!
Latest News & Industry Articles