Hercules Fasteners is a premier supplier of many varieties of nuts and locknuts
At Hercules, we understand the importance of correctly pairing products with their applications. That's why we offer a wide variety of locknuts, hex nuts and many other nut varieties to suit the unique needs of your operation. Whether you require large quantities of standard products or a custom order, our expert service team is ready to help you find solutions to meet your fastener needs.

Here are just a few examples from out extensive product line:
2H Nuts
All Metal Lock Nuts
Coupling Nuts
Slotted Nuts
Castle Nuts
Flange Nuts
Heavy Hex Nuts
Hex Nuts
Jam Nuts
Keps
L9 Nuts
Machine Screw Nuts
Nylon Insert Lock Nuts
Square Nuts
Stainless Lock Nuts
Weld Nuts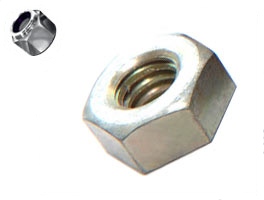 We also offer metric fastener nuts; see our metric fasteners page for our extensive line of metric bolts and other fasteners in metric sizes.

We offer many nut varieties in addition to those listed here. Take a moment to fill out a request for quote, or give one of our customer service professionals a call. You'll see why Hercules Fasteners should be your preferred fastener supplier.