Hercules Fasteners offers the best selection of flat washers, star washers and other washer varieties.
A washer may not seem as important as a bolt or a nut, but correctly choosing a washer can greatly affect the performance and longevity of an assembly. We at Hercules Fasteners are thoroughly aware of this, and it is our careful attention to such details that sets us apart from all other fastener suppliers. Whether the product is a flat washer, a star washer, a wave washer or any other washer variety, precise construction and appropriate composition are key to correctly pairing a washer with its application. Because the need for washers is so varied throughout industry, Hercules Fasteners offers its customers a wide range of washer choices, including these examples:
Plain and Flat
Star Washers
Interior Tooth
Exterior Tooth
USS Washers
SAE Washers
Split Lockwashers
Belleville
Structural
Grade 8 Washers
L9 Washers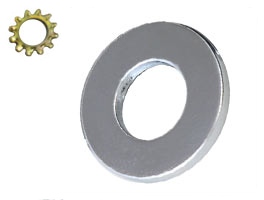 In addition to standard sizes, we also supply washers in special, made-to-print configurations. Our expert service staff can help you select exactly the right fasteners for your application. If you require washers in metric sizes, Hercules Fasteners offers an extensive variety of metric fasteners, including metric washers. Visit our metric fasteners page, where you can also learn more about our metric bolts, screws and other fasteners in metric sizes.

Our easy-to-use RFQ tool is the only step between you and the fastener products you need. You can also speak directly with one of our service experts by giving us a call or sending an e-mail. We look forward to being your fastener supplier.