You will appreciate the high quality and value of our line of socket, slotted and square head set screws.
At Hercules Fasteners, we understand how important the performance of every fastener can be. When a set screw is installed in an assembly, it should remain out of sight and out of mind; engineers and craftsmen should be able to trust that their fasteners won't fail. For this reason, we offer only the finest quality fasteners. In order to meet the varied needs of our customers, we stock an extensive line of socket, slotted, square head and other set screws.

Our set screws are available in the following point styles:
Cup
Flat
Half Dog
Full Dog
Knurled Cup
Cone
Oval
Brass Tipped
Nylon Tipped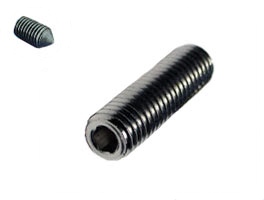 We also can accommodate special, made-to-print items, and many of our fastener products are available in metric sizes as well as US customary sizes (visit our metric fasteners page for more details). In addition to set screws, we offer many other fastener varieties, including bolts, drill bits, lock nuts, machine screws, tapping screws, hex nuts and much more.

We are an ISO-certified distributor of fasteners, and since 1985 we have connected our customers with the fastener solutions they need. Let our service specialists put their expertise to work for your company today. Try our simple RFQ tool, or contact us by phone or e-mail.