Hercules Fasteners offers the best available selection of machine screws and tapping screws.
A machine screw's quality can mean the difference between a solid, dependable assembly and a shaky or even dangerous one. At Hercules Fasteners, we are proud of our history as distributors of high-quality machine screws and tapping screws. We are keenly aware of our customers' needs for solid, dependable fasteners, and we work hard to equip our customers with the right fasteners for their applications. In order to make this possible, our stock of machine screws and tapping screws includes a wide variety of different screw configurations in many different finishes.

Here are just a few examples:
Self Tapping Screws
Thread Cutting Screws
Thread Forming
Wood Screws
Sems Screws
Lag Screws
Captive Screws
Weld Screws
Tamper Resistant Screws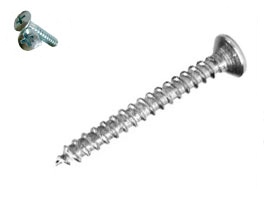 Our machine screws and tapping screws are available in all head styles and drives, from simple slot and Phillips screws to Torq-set and hex screws. Our large inventory of screws also includes a long list of metric fastener varieties. We also supply special, made-to-print products.

Our service specialists are waiting to help connect you with the fastening products you need. Fill out an RFQ online or contact us by phone or e-mail. We're eager to show you why we are the nation's finest fastener supplier.