Hercules offers a wide variety of bolts in both inch and metric sizes.
With more than 25 years in the fastener business, we know how important bolt performance is in an assembly or construction. However, it does take that kind of expertise to identify and choose the right bolts for a job. At Hercules Fasteners, our staff has been supplying customers with the right bolt solutions since 1985. Our ISO-certified distribution business is unparalleled in customer service and product quality.

This short list features just a few examples of our extensive line of quality bolt choices:
Hex Head Cap Bolts in Grades 2, 5 and 8
A325 Bolts
A490 Bolts
L9 Bolts
B7 Bolts
U Bolts
Carriage
Lag
Anchor
Plow
Eye
Step
T-Slot
Hex Flange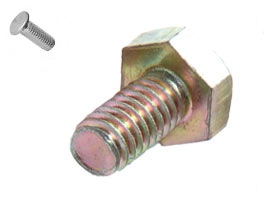 We also specialize in the supply of metric bolts as well as special bolts made to print. In addition to our bolt selection, we offer a wide range of other fasteners, including machine screws and tapping screws, washers and a variety of nuts and lock nuts. Our capable service specialists are eager to help you find the right solutions for your fastener needs. Call us, e-mail us or try our easy-to-use RFQ tool today.