Hercules Fasteners is an authorized distributor of 3M Rite Lok Adhesives
Hercules Fasteners a premier ISO-certified fastener supplier. In addition to our fine line of fastener products, we are also an authorized distributor of 3M Adhesives, including the Rite Lock line of industrial adhesives.

The Rite Lok line includes:
Anaerobic Adhesives
Retaining Compounds
Threadlockers
Gasket Makers
High Pressure and Pipe Sealants
Cyanoacrylates (Superglues)
Ethyl Cyanoacrylates
High Temperature Adhesives
Low Odor Adhesives
Rubber Toughened Adhesives
Plastic and Rubber Adhesives
UV Curing Adhesives For:
Electronic Bonding
Cut Glass and Lead Crystal
Automotive Industry
Glass Furniture and Display Cases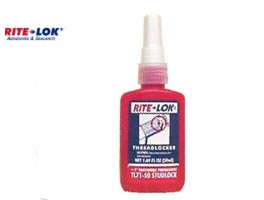 The Rite Lock product line also includes primers and activators. Choosing the right adhesive for an application is not always easy; our service professionals can evaluate your application and help you choose the right adhesive product.

Adhesive distribution is only a small part of our operation; visit our metric fasteners, washers and other pages to learn about our impressive variety of bolts, metric fasteners and other fastener products. Fill out an RFQ or contact us by phone or e-mail. We are eager to connect you with the adhesive and fastener products you need.